Hello everyone,
My name is Gavin and I have a right Obstetric Brachial Plexus Injury, commonly known as Erb's Palsy, an injury I've had since birth. My right arm has an impaired range of movement, reduced strength, endurance and sensation, however I've tried not to allow myself to be defined by my injury or let it prevent me from enjoying things.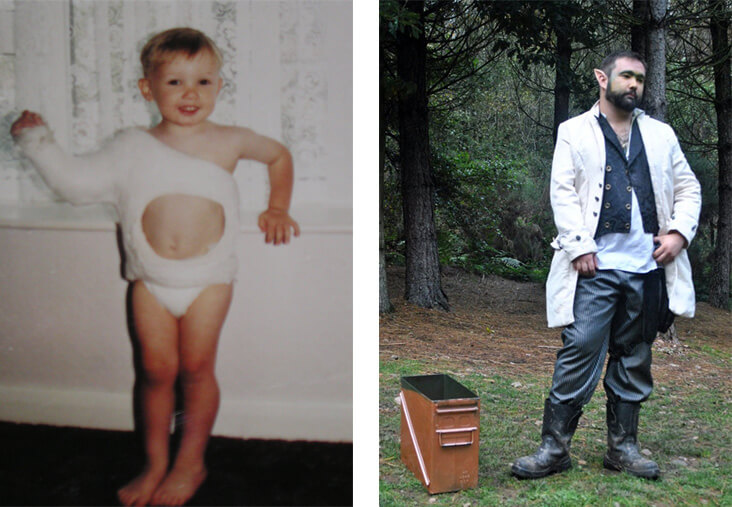 In my teenage years I studied Ju Jitsu to black belt level, alongside kick boxing and Filipino Weaponry. I never allowed my Erb's Palsy to hold me back and would find ways of altering the various techniques I was taught to suit my abilities and skills and to accommodate my limitations. Even though I do not currently practice Martial Arts anymore, it led me to another of my hobbies that I enjoy.
For the past decade I have been involved in Live Action Role Play (LARP). This involves a number of things you would have thought that having a permanent Erb's Palsy would have prevented me doing, as it involves camping for several days, putting up tents and camping gear, helping create scaffolding structures for scenery and stage combat. Despite my Erb's injury, I am able to not only enjoy the hobby but also to help others with their camping equipment and to teach them how to fight safely, including helping to run LARP systems recently.
For the past few years I have lived by myself, meaning I am reliant on myself for everything. Even though I struggle with some housework and everyday tasks such as changing light bulbs or DIY, it hasn't stopped me being able to live independently. Because of the successful claim, I was able to adapt my flat in such a way that allows me to live independently with the minimum of difficulty, and to remove a lot of the stresses of running a home by myself.
Workwise, I have had a varied career and my jobs have ranged from working for the NHS as a Student Radiographer, the Local Council in Children's Social Services, Adult Social Services in a wide variety of tasks, and currently as an Emergency Services Despatcher. In each role, I have been able to get fully involved with the team and have tried to make positive changes to the job, rather than letting anything hold me back.
As a child my parents encouraged me to try lots of new activities, because of that I haven't let my injury prevent me from trying things and finding hobbies and interests I may not have been drawn to otherwise. Because of this I would always recommend that parents of children with Erb's encourage them to try things out so they can find activities and hobbies to suit them.
---
To raise awareness of this condition and to support the Erb's Palsy Group Tozers are running a series of articles this week written by young people who have Erb's Palsy, entitled "Then and Now". These inspirational stories are intended to celebrate the achievements of these individuals despite a difficult start in life, to offer hope and support to those new families with a baby or young child with the condition.
We have over 25 years' experience in bringing clinical negligence claims for compensation on behalf of Claimant's with Erb's Palsy. We have developed a wealth of knowledge in relation to this condition.
For further advice please contact our specialists on 01392 207020 or email enquiries@tozers.co.uk.